13 Nov

Introducing the Centre for Health Innovation – Taking evidence-based naturopathic medicine to the next level

For the last decade, the Ottawa Integrative Cancer Centre (OICC) has pioneered and researched an integrative model of care for cancer patients, where naturopathic meets conventional medicine.

The OICC is now embarking on a new chapter: expanding beyond cancer care to become The Centre for Health Innovation (the CHI). The new clinic is home to a multidisciplinary practice that supports those challenged with other chronic and acute health care needs including mental health, thyroid health, women's health, diabetes, cardiovascular disease, autoimmune conditions, obesity and more.

The CHI consists of a team of dedicated health care practitioners including naturopathic doctors, medical doctors, nurse practitioners, psychiatrists, physiotherapists, acupuncturists, and yoga therapists who together provide integrative care suited to individual patient needs, informed by and contributing directly to ongoing scientific research.

The vision for this holistic approach to care comes from Dr. Dugald Seely, ND, MSc., the founder of the OICC.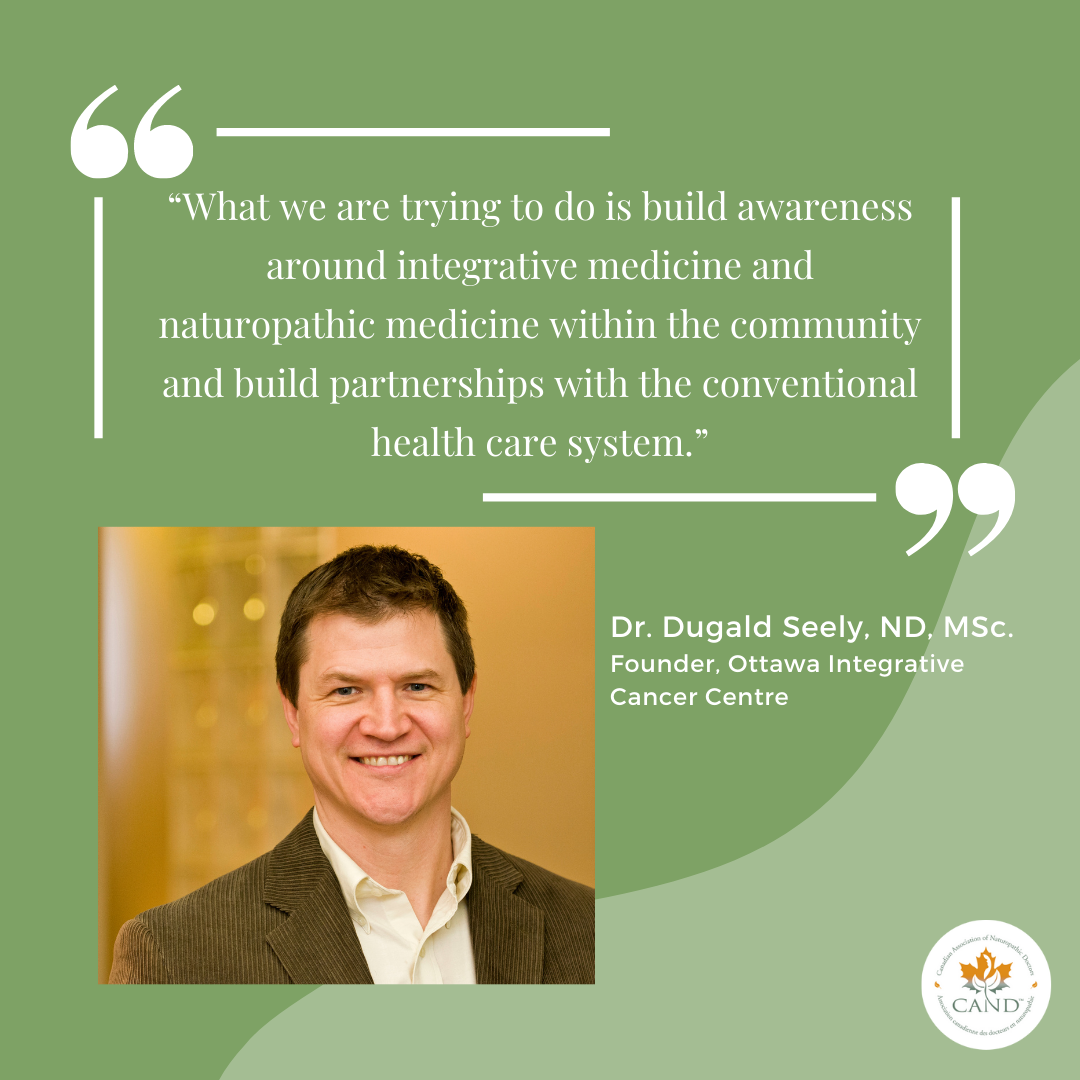 A graduate of the Canadian College of Naturopathic Medicine (CCNM), Dr. Seely, ND also serves as the College's Executive Director of Research & Clinical Epidemiology. He is an adjunct professor with the Faculty of Medicine at the University of Ottawa, an affiliate investigator with the Ottawa Hospital Research Institute (OHRI), and the president of the Oncology Association of Naturopathic Physicians (OncANP).
It was through the combination of education and research that Seely saw the opportunity for a more focused, integrative, research and clinical care centre for cancer patients. The model represents collaboration at its finest, bringing together naturopathic medicine and conventional medicine to reach one common goal: deliver the best care and health outcomes to patients.
While clinical care and research will be the core components to the work at the CHI, there is an equally important educational component to the work. "What we are trying to do is build awareness around integrative medicine and naturopathic medicine within the community and build partnerships with the conventional health care system," stated Seely.
Seely and the CHI will continue to innovate for evidence-informed complementary medicine and educate to help Canadians see and experience the benefits of integrative medicine. Efforts like these help shape the future of naturopathic medicine, research and integrative health care in Canada.